We really appreciate the support from the following Funders.
Thank you to The Stirling and Bridge of Allan Roundtable for their support and award of funding.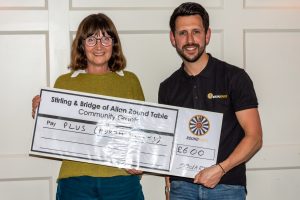 PLUS Operations and Development Manager, Lesley-Anne being presented with a cheque from Stirling and Bridge of Allan Roundtable at their recent Awards Evening. It was great to see all the local causes that the Roundtable have supported over the last year.
Thank you!
Recent Funding Awards include:
Funding awards from:
The Thistledown Trust
The Conundrum Trust
The Agnes Watt Trust
Miss Isabel Harvey Charitable Trust
Erskine Cunningham Hill Trust
Forth Valley NHS Trust
The James T Howat Charitable Trust; and
The David Family Foundation
Donations from:
Rotary Club of Carse of Stirling
Dunbracken Ladies Golf Club
YPI
We were delighted to be the winning chosen charity for St Modans High School in 2021. Well done to all involved!
We thank the following Funders for their support: